Jumbo Rectangular Laundry Basket 23.5″x15.25″x9.5″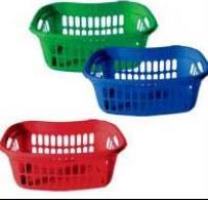 Cheap Jumbo Rectangular Laundry Basket
Wholesale Price on Jumbo Rectangular Laundry Basket
Jumbo Rectangular Laundry Basket 23.5″x15.25″x9.5″
This Jumbo Plastic Rectangular Basket is 23.5″ in length, 15.25″ in width and 9.5″ in height. This item comes with different colors.
This Jumbo Rectangular Laundry Basket is great solution for storing cloths and can be used as several purpose household storage basket.
There are 48 Jumbo Rectangular Laundry Baskets in a Case.
This item is in our GENERAL MERCHANDISE warehouse in Chicago, IL.
We require a minimum order of $1000.00 to in this category. 
Free shipping is available on orders of $2500.00 in this category (in the 48 contiguous United States).
Must order in groups of 48. Minimum order: 48.