2 Pack Salad Server Set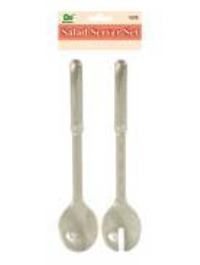 Cheap Plastic Salad Server Set
Wholesale Price on Salad Server Set (2 Pack)
2 Pack Salad Server Set
This Salad Server Set contains a server spoon and a fork. The design of this Salad Server Set makes it easy to mix and serve.
This Salad Server Set is perfect for your kitchen and tableware requirements.
There are 48 Salad Server Sets (2 Pack) in a Case.
This item is in our GENERAL MERCHANDISE warehouse in Chicago, IL.
We require a minimum order of $1000.00 to in this category. 
Free shipping is available on orders of $2500.00 in this category (in the 48 contiguous United States).
Must order in groups of 48. Minimum order: 48.