Toilet Bowl Cleaner and Air Freshener-blue treasure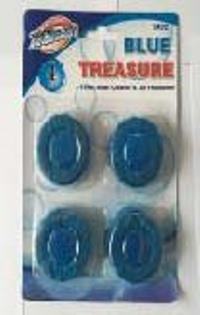 Cheap Toilet Bowl Cleaner and Air Freshener
Wholesale Price on Toilet Bowl Cleaner and Air Freshener
Toilet Bowl Cleaner and Air Freshener-blue treasure
There are four Toilet Bowl Cleaner and Air Freshener Tablets in a packet. It is a drop-in tank tablet which releases a specific amount of powerful cleansing substance with every flush to kill germs, remove stain and to keep your toilet hygienic. This toilet bowl cleaner also cleans away odors and gives a pleasant scent to freshen toilet room. It is a perfect regular use toilet bowl cleaner and air freshener for your home and office.
There are 48 Toilet Bowl Cleaner and Air Freshener Packs in a case.
This item is in our GENERAL MERCHANDISE warehouse in Chicago, IL.
We require a minimum order of $1000.00 to in this category. 
Free shipping is available on orders of $2500.00 in this category (in the 48 contiguous United States).
Must order in groups of 48. Minimum order: 48.