Paint Roller Refill 3″ 3PC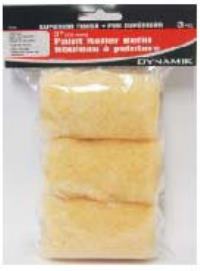 Cheap Paint Roller Refill
Wholesale Price on Paint Roller Refill
Paint Roller Refill 3″ 3PC
There are 3 pieces 3″ roller refill or nap in a packet. These roller refills or naps hold all types of paints, stains, varnishes etc and produce smoothest finish. These roller refills or naps are perfect for applying enamel, latex, oil paint, stain, varnish, etc. on walls, ceilings, wood and metal surfaces.
This item has 12 per box and 72 in a master case.
This item is in our GENERAL MERCHANDISE warehouse in Chicago, IL.
We require a minimum order of $1000.00 to in this category. 
Free shipping is available on orders of $2500.00 in this category (in the 48 contiguous United States).
Must order in groups of 12. Minimum order: 12.