Photos and testimonials provided by customers who purchased and installed our peel & stick flooring products:
Peel & Stick Vinyl Floor Tile Gets the Spotlight in an Exhibit at the Seattle Art Museum
A real surprise dropped into our email inbox one day from the Seattle Art Museum. They had purchased an unusual variety of patterns in our 12″ x 12″ peel & stick floor tile collection. Several months later, this photo came attached to their email message: 
Notice the square Black & White tiles. The are surrounded by hardwood patterns and some other earth tones. Kinda cool, huh? Check out all our great flooring styles and patterns.
—————————————————————-
I love the tiles.  Best thing we ever did in the garage. (Brazilian Slate Tiles)
The flooring is great. Gives my barbershop a real personality.
Gene purchased black and white garage floor tiles to complete a 2 car garage.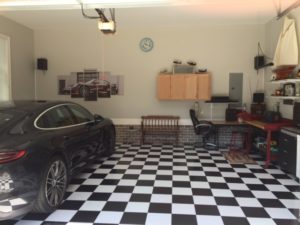 A homeowner, David, loves his black and white floor tiles.
A homeowner, Greg from Lima, Ohio, ordered 50 boxes of our Silver Spruce 6″ x 36″ Peel & Stick Vinyl Planks.
We ship the product on a wood pallet and wrap it tightly. From our warehouse, the boxes are not touched by human hands. This greatly reduces the chance of damage during shipping.
Installation of peel & stick is fast and easy. Each piece is 1.5 square feet so covering a large space is really quite quick. (Silver Spruce)
The Man-Cave Saloon is open for business. Wow! Looks fantastic! Time to move on to the den. (Silver Spruce)
Here's how the Silver Spruce pattern looks with some natural light pouring in the front window.
And here is what the Silver Spruce planks look like from the darker side of the room. Rich-looking flooring for about a dollar a square foot!
Pat Stewart (no, not the Captain of the Starship Enterprise) loves his Salt 'n Pepper Epoxy-Look tile. He shares this private airplane hangar with a couple of his flying buddies and shared this photo with us.
I love the floor planks.  Thank you so much.
Andrew, the planks worked out very nicely, attached a photo :). The material was great and easy to install i have family and friends interested on it now and have provided your information as well. Thank you for following up, very happy with the product. Thanks, John N.
For "car garage guys" this product is so much more affordable than all the other stuff out there and it's extremely easy to clean any oil spills. It's a real good way to go!  I see garage flooring advertised and it's so expensive. You probably know. We're going to remodel our training area and we'll use your tile in there, too. It's easy to install and easy to clean. I'm sold!
– Jim H.  Ft. Myers, Florida
This photo was sent in by Thom D. of Broken Arrow, OK.  Thom is in his mid 50's and loves to ride classic Honda Elsinore motocross. Wait!….here comes Thom takin' a berm right now!
Colleen G. shares her home office with us. She used the Medium Oak pattern. Nice job,, Colleen! And thank you very much for sharing.
"Finally got around to doing this office, but on weekend and so easy! Thanks for the awesome floor!!"
Our customer, JD. posted this on our Facebook page on June 6, 2017:
"Finally got my Hog Pen finished . Turned out nice . Many compliments on my floor from my buddies . Great product highly recommend. Thanks." — in Athens, Tennessee.
Thanks so much for sharing, JD. Really great way to showcase and enjoy your classics.
Another Man Cave taking shape in Lake Hills, IL. Thank you for sharing, Eric. You wasted no time installing your floor. We just shipped it 3 days ago!
Eric said, "I just finished doing my garage floor. It was very easy to complete and it looks fantastic! Thanks for a great product at a great price."
Our customers are so creative and talented. Here we have a new enclosed motorcycle trailer with our part #396103 black and white combination floor tile installed. This is 2 black squares and 2 white squares printed on the same tile. It looks fantastic, doesn't it?
Garage Floor Tile…Only 80¢ per square foot! See all out patterns & order, CLICK HERE.
I love my garage tiles. We covered our ugly garage floor with the black and white checkered tiles. I even used the tiles on my doors and steps. After more than 6 months use, rain, snow etc. has not damaged the tiles and not one tile has moved. Yes, we park both vehicles in the garage and clean up is easy using a damp mop. All of our friends say it doesn't look like a garage but a malt shop. We have used the garage for dinners, game area. Before, I was ashamed of my garage! Now I show it to everyone. I would recommend these tiles to everyone. The cost and product is great! Thanks Debbie Heaton Elizabethton, Tennesee
"Received my order. Tiles are high quality for peel & Stick. Good adherence to painted concrete floor. Easy to install My project turned out perfect and everyone that has seen it are very impressed. Thanks for great quality and service." Ron T., Bourne, TX
Although we usually carry large inventories of peel & stick floor tile, Stephanie H. patiently waited for her delivery because this particular pattern was out of stock when she ordered. This is Spanish Rose. Stephanie, thank you for sharing this photo and your kind words. Excellent job on the installation. Looks great! Enjoy your floor and tell your family, friends & neighbors where you got the great deal!
Pretty Pink and Posh is a party place on Owings Mills, MD.
Owner, Chrissy Langdon shares photos of her party room floors.
"Everyone loves the floor they can't believe what a change it made. This room used to have gray old carpet."
Silver Spruce self-adhesive vinyl floor planks
"So easy! Thanks for the awesome floor!!"– Colleen Grazianio
Can you believe this cool patter? Jake writes:
"Well, it turned out it was the most inexpensive and convenient way for a DIYer.  The tile has been working out just fine."
We installed the floor in our youth room at church. My wife and I are the youth leaders and we renovated the entire room. We knew this floor would be perfect for what we wanted to do. We also decided to double up and make the squares bigger. My wife and I installed it and it was very easy. We had never put in a complete floor so we was nervous but once we started we knew we could do it. Thank you all for this great product. We could not have done this without you.
P.S. The students went nuts and loved the floor.
Thank U,
Brent and Niki Beeler
Ruben B. from Grovetown, GA shared this photo plus some advice: "Do not show you wife the completed garage empty or she will get all kinds of ideas how to use your garage.  PUT YOUR JUNK BACK BEFORE SHOWING HER SO SHE DON'T GET ANY IDEAS!  Not kidding man! My wife was talking about adding a café style table  and chair and a rug for a reading area to keep me company when I work in there blah blah blah, Fat chance I say! It's a man cave darn it!" 
Classic Corvette proudly displayed by a satisfied floor tile customer
Linda W. from Pennsylvania shares the resurfacing of her basement stairs using our peel & stick floor planks.  The 36″ length of the planks is ideal for most staircases.  Brass stair nosing finishes the edge for a clean and seamless look.  Linda is a repeat customer and we're so grateful she shares her experience and photos for the benefit of our future customers!
Deb Jonasson of Wrentham Mass. shows off her Silver Spruce self adhesive floor planks.
Andrew, just wanna say how very pleased I am w/the flooring tile I ordered from your company- I wanted a new look for my bathroom floors and began searching the web for "peel n stick" floor tile and ran across Mazer Wholesale. I thought I misread the pricing—even thought there some sort of "catch" to the pricing. It was so CHEAP but beautiful at the same time! My master bath was just completed and oh what a difference the new flooring makes! Even the installer talked about how pretty the pattern was! I previously had that "drab", off white flooring. I have attached pics of the newly installed floor—I also purchased another pattern for my guest bath and can't wait to have it installed, too!
BTW, I fell in love w/the area rug sets on your website, so be looking for an order from me for those!
Vivian Brown, Lexington, KY 
"I thought I would drop y'all a note and show you some before and after pics of my garage. The tiles were very easy(forgiving) to install. The garage looks awesome now.! Thank you for a smooth transaction and wonderful product.
Regards, Dave D.
P.S. The wife even loves the garage now. HAHA
Tom Wolf, from Palm Coast, Florida shared his photos with us. Most of our customers who tile their garage floor with our vinyl peel & stick tile have used the black and white combination.  Mr. Wolf took it in another direction and used out style #396423 which is called Natural Granite Rock.  That's a nice-looking garage! Thanks for sharing, Tom!
"Andrew, I installed the floor tiles in my garage. Although I had never installed floor tiles before, I went on and installed these myself. Putting down the floor tiles was relative easy, the floor preparation and making sure the tiles were straight and even was the most challenging part. Attached are a couple pictures of the finished job.  I park two cars in the garage. There has not been any damage. The tires will leave an imprint but it washes off easily. "- Bob Wagner
"The tile is working out great. Installed it myself in a couple of evenings. Garage is 20 x 40." -Chris S. Raymore, Mo.
"The floor tile is doing good. I installed it myself in my garage. Looks good. I installed when it was cool and it went down pretty good but had some that wouldn't stick b/c of moisture. But when it started getting hot outside it all stuck down good. For the price and easy install I would get it again. I will send some before and after picture of the garage. Thanks, David"
From Nancy H, Alton, MO:
Nancy H. said:
"I bought flooring from your company a year ago this month. It was the Medium Oak tiles that are 6″ x 36". I was wanting to put them on a cement floor in my children's rooms and finally got around to it. I first primed the floor with Henry 336 floor primer. The room I was tiling is about 12′ x 14′. I LOVE the tile, it has a great adhesive and goes down easily and I did it myself quite quickly. It is beautiful, I am MORE than happy with it! I have two pictures, the first one is a work in progress. The 2nd one is floor finished. I would recommend this flooring to ANYONE! Easy to do by yourself. I had never done this before but had taken on other projects, so I am a do it yourself-er. Thanks so much for a GREAT PRODUCT!! Nancy H. She did it herself!