With summer upon us and the weather getting nicer, that means Construction – Renovation – and Hurricane Season. Whether you are building, renovating, or protecting property, something you will always need is tarps.
In this article, we're going to talk about the WHO, WHAT, WHERE, WHEN, and WHY of tarps.
Who Uses Tarps?
If you live in a highrise apartment building, you may not have any reason to own a tarp, but if you have a house, a tarp can come in handy for things you may need to cover outside like
Patio furniture
Your BBQ grill
Bicycles, motorcycles, and boats
They can also be used for making a makeshift tent for camping.
What are the Uses of Tarps that are Purchased in Bulk By Big Users
Buyers of larger quantities of tarps include:
Roofing contractors who use them to cover roofs during roof renovations
Tarping contactors (who are often roofing contractors too) jump into action to cover roofs after heavy storms
Cities, Counties, and benevolent groups buy tarps in bulk to donate to the homeless for temporary shelter
Retailers like hardware stores, and sporting goods stores, sell tarps and therefore need to buy in bulk to resell them
Where Are Some Places Tarps Used?
Tarps are used:
In the trucking business for keeping bulk material from spraying out of the top of open-top trucks
At campgrounds where people need to be prepared for all kinds of shelter or ground-covering needs
In the yard for covering bulk materials which may need to be kept dry or safe from blowing away in the wind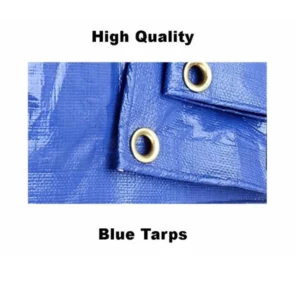 Blue Tarps Are 6mil Thick – Silver Tarps Are 10mil Thick
6mil Blue Tarps are considered heavy duty (as opposed to their much lighter, inferior counterpart, 3mil blue tarps).
Blue Tarps Are Used WHEN:
You need to protect your belongings from the elements
You want a tarp that will last  for a long time and for keeping to be used again
When you don't want to spend a lot of money on a tarp (blue tarps are economical)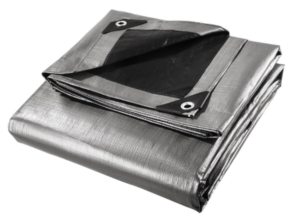 Silver Tarps with Black On the Reverse Side Are Used When:
…A heavier, more durable tarp is needed. Silver/Black tarps are 10mil thick so they're more durable.
…the tarp will be subject to the punishment of high winds, snow, ice, and…
…intense heat is an issue. The purpose of a silver side of a silver/black tarp is to reflect UV rays. This keeps the item being covered cooler which could be desirable in most situations. The black side could be facing outward in a situation that benefits by absorbing the heat of the sun to keep what is underneath warmer.
Tarps are extremely versatile and come in an abundance of stock sizes. Our smallest size is 5'x7′ and our largest size is 100'x100′.
Tarps are made with weather-resistant grommets so they can be tied down OR so they can be joined to other tarps in order to extend the coverage area. Rope, twine, zip ties, bungee cords, and rubber straps with 'S' hooks are commonly used for fastening tarps.
Fire Retardant Tarps
Fire Retardant Tarps are mostly used indoors. They would be used in areas where products or equipment could be exposed to sparks, open flames, or high voltage.
How to Buy Tarps at Low Wholesale Prices online or By Phone
Order tarps at wholesale pricing by calling 1-800-343-0780 or visit our website https://mazerwholesale.com/ where you will find a huge selection of sizes and the current wholesale prices.